November 2, 2021 – March 6, 2022

The exhibition presents over two hundred pieces of 18th-century tableware and utensils fashioned from porcelain, silver, and glass. The commentary to the assembled objects is a quote from Customs and Culture in Poland under the Last Saxon King by Jędrzej Kitowicz (1728–1804) describing table services of the period. The lively text scintillates with humor as the author addresses such disparate aspects of society in the Polish-Lithuanian Commonwealth as court appointments, piety, childrearing, dining culture, and fashion. The entire work, comprised of several dozen chapters, is a literary marvel filled with penetrating observations of the period in Polish culture known as Sarmatism. In the section on "Noble Tables and Banquets" the author describes in great detail how the tables were set for feasts, old-fashioned and au courant dishes, the serving order of courses, and the presentation of sugar centerpieces. Other chapters tackle libations and drinking, and even celebrated tipplers.

Magnificent Baroque cups—exceptional for their monumental size as well as their refined engraved decorations—serve to illustrate Kitowicz's prose. Some of the cups are adorned with the coats of arms of Polish magnate families. The titular "tureens, dishes, centerpieces" are represented by tableware made in the famous 18th-century Meissen Manufactory established by Augustus II the Strong, king of Poland and elector of Saxony. The festive character of tables in the Baroque period was determined by the number of silver vessels, such as the splendid selection of objects on view. Displaying the silver and porcelain together makes it possible to trace the manner in which various forms and fashions entered the decorative vocabulary, in spite of the dissimilarity of techniques used to produce different types of dishes and the origin of their makers.
Information for Visitors
exhibition on view next to "Wawel Recovered", November 2, 2021 – March 6, 2022

Tuesday–Sunday 9.30 am–5:00 pm, last entry 4:30 pm
closed: December 24, 25, 26, 31; January 1, 6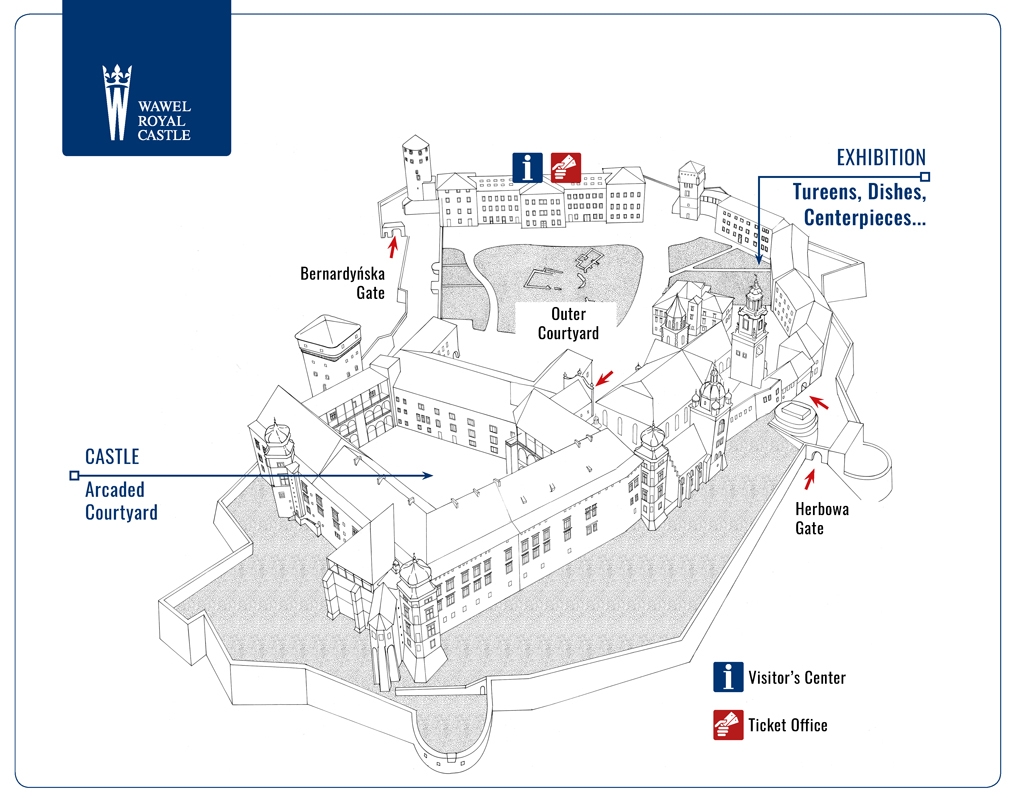 access to the exhibition